Hi there!
I have a classic apple shaped body (thanks mom...) which makes fitting commercial sewing patterns a challenge, particularly since I don't have a lot of free time. And even when I did make some time to alter patterns, the garment still didn't seem to fit properly. I had pretty much given up sewing for myself until I found a great fitting book in my web travels. It has pretty much solved all of the challenges that have kept me from making clothes for myself except for the lack of free time of course.
I have tried most of the traditional pattern alteration techniques like cut and slash but this one is different and has worked out really well for me.
The technique is based on the premise that no matter how much your bust, waist and hip measurements change, your arm to arm chest measurement never does. Therefore, this one measurement should be used when determining your pattern size. Mind. Blown.
I had been buying patterns in a size 14 or 16. When I took this measurement using Nancy's instructions, it indicated that I should be buying a 4-6. I have a very small neck area and have always had problems with gaps and loose necklines in both pattern fitting and ready to wear. This technique seemed to make so much sense to me.
I chose a simple pattern to try out the technique and this was the result. A perfectly fitted top for the first time since the olden days when I drafted my own patterns. Holy cow was I happy! It still took a bit of alteration of the pattern but the difference is that I ended up with a wearable piece of clothing.
I have several tops I have made hanging in my closet. Even though I like them, I never wear them because the fit isn't quite right. I wear this one all the time. I made it out of a nice quality, comfy cotton knit in a style that is good for apple shapes.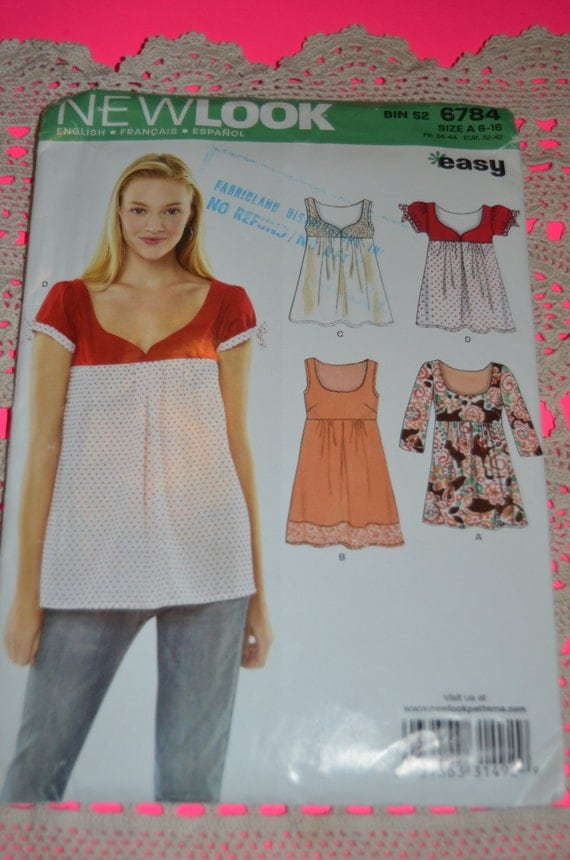 The pattern is New Look 6784 view A.
The three quarter length sleeves turned out a little wide at the bottom. Instead of taking them in I made a little tuck on the edge to make them a bit narrower and added a decorative button.
I checked the book out from the library to try it out before I bought it. Once I saw how well it worked I immediately ordered it from Amazon and and have been thrilled with it.
If you have been thinking about learning to sew or getting back to it after an absence run as fast as you can to your library and check it out to see if it works for you too. If you do let me know I would love another sewists perspective!
If you want a little preview, check out Nancy's intro video
HERE
.